BACK
10 Reasons Why Your Debt Keeps Rising
June 22, 2017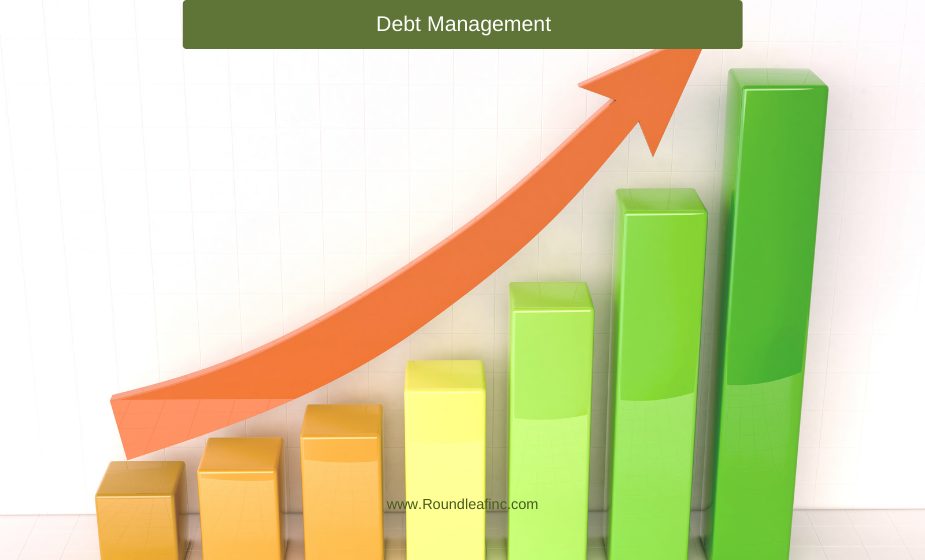 If you have debt you are definitely not alone. The average American has over $50,000 in debt. Being in debt can be stressful and can seem very hard to get out off. Are you paying it off by paying just the minimum? Or are you not paying it off at all because
you just aren't sure where to start? No matter your situation, we must first discuss how you got here so that you don't go back! Here are 10 reasons why your debt may continue to rise,
Past medical bills
Loss of income
Lack of Financial Knowledge
Poor Money Management
Unexpected expenses
Student Loans
Lack of budgeting
Cost of living increases
Paying off just the minimum
Having no financial goals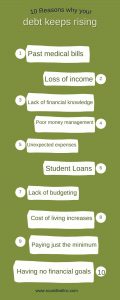 Read on to find
out why your debt may keep rising!
Past medical bill debt
Getting a medical bill can be the last thing you want to deal with after being ill or injured. Sometimes insurance may not even cover your medical bill entirely. This is saving you with more than you can afford. When this happens most of the time we put
it aside until we forget about it and it has gone into collections.
Loss of income
When your source of income has decreased it can make things very stressful. Whether it is losing a job, getting hours cut, or taking time off for personal reasons, the one thing that does not decrease is the monthly bills.
Lack of financial knowledge
Not understanding the financial system and how credit may have a substantial effect on your future can make managing your money very difficult. This can lead to bad money habits which can prevent you from being able to buy a house or car.
Poor money management
Having poor money management can stem from many reasons such as the lack of financial knowledge or even habits that you may have picked up from a relative or friend. This can also happen we you do not set realistic future goals. Sometimes it is hard for
people to manage their money when they don't know what they are managing it for.
Unexpected expenses
Unexpected expenses can make it hard to get out of debt, especially when you do not have savings for unexpected life situations. Unexpected expenses can be an emergency expense, a divorce expense, or maybe even supporting a family member financially.
Student loan debt
Student loans can be a hassle especially when you don't have a job right out of college. This can make it hard to get out of debt because you are stuck paying it off for a a while. This is when just paying the minimum will feel like forever. It is also
an added monthly expense that a you have to plan for.
Lack of budgeting
One reason why your debt keeps rising is due to the lack of budgeting. Creating a budget can help give you guidance on where your money NEEDS to go and where you WANT your money to go. It can also help you keep track of your spending. When you do not
stick by a budget plan you have no clue where your money is going for the entire month.
Cost of living increases
Another reason why your debt keeps rising is because so does the cost of living. It is hard to save more each month when rent, groceries, and gas keep going up.
Paying off just the minimum of your debt
Your debt might keep rising because you are just paying the minimum. It may be the easier option but in the long run you are paying more for a longer period of time. Not only are you just paying off the amount you owe but you are also paying it off plus
interest!
Having no financial goals
Having no financial goals can lead to your debt increasing. Not having something to plan for can make you not aware of your spending.